How to catch Mahi-Mahi
How to catch Mahi-Mahi                            
Some call them Mahi-mahi, others Dorado or dolphin fish, but one thing that all these agree is that mahi-mahi are some of the most popular game fish. They are known for their spectacular colors and delicious taste. They normally put up a very spirited fight when captured .Some people have joked that the reason why they jump and fight so hard when hooked is because they do not want people to discover and experience their delicious taste as this will threaten their survival. Their abundance, especially in the tropics, fast growth and short life make them favorites for fishermen as well as people who are fishing for leisure.
You may have seen a Dorado on a picture but nothing mesmerizes as much as the sight of the fish when in its real environment. The fish amaze by their ability to change the intensity of their color based on their mood, however this may not be seen when the fish is removed from its environment. The color usually fades away immediately they are pulled onto the fishing boat, out of the water. It will be difficult to convince people who have seen them in those nice pictures that what you have is actually a Dorado. As you aim to catch a mahi-mahi you probably should try to take a photo of the fish when in its natural environment. You can keep it as a reminder of the beauty of your catch and also a proof to the doubting Thomas's, that what you have is a real mahi-mahi.
How do you distinguish a male from a female?
For curiosity's sake, you may want to tell whether what you have caught is a male or female Dorado. Males, also referred to as bulls, normally have a large and distinctive flat forehead. When compared to females, they are normally bigger. Anything that weights more than 25lbs will most likely be a male. The females are smaller in size.
How to catch them
They are normally creatures which like open water environment, you will mostly find them in floating debris. Any area with gloating objects is worth looking for if you want to get your catch, and a good one for that matter.  Chum them and you will get them moving, they are pelagic although on some rare occasions they can be caught from the shores.
Luring them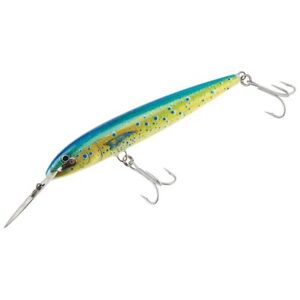 Trolling lures like those meant for sail fish or feathers for tuna will do the magic. You can also use hit troll plugs. You might be surprised by the amount of lure that these fishes will eat, they are a greedy lot, or is it that they want to have the best of their last meal? Popper is also a good lure; many people have found it perfect as the mahi-mahi will readily eat it. While at it, you have to be on the lookout especially on the heavier lures, as Dorado can really jump and the lure may come flying back in your direction at a high speed.
The baits
Traditional baitfish including sardines and mackerel can help you greatly. The larger fish will need large baits. You may be surprised by how Dorado engulf large bait with their small mouths; this is another amazing thing about these creatures. When fired up, anything that comes their way will be engulfed, whether it is alive or dead.
The above information is just a scratch on the surface as far as catching mahi-mahi is concerned, we invite you to walk with us and get more tips on how you can net these beautiful fish as well as other information about fishing.
Find all your fishing tackle and accessories at FCPTackle.com